2019
End of Year Celebration Week and Show
---
Circus Warriors Class: Wed 13 Nov, 10.00am
An obstacle circus course for preschoolers – what more fun can you have!!
Jumping, rolling, hanging, crawling, swinging on all the circus equipment.
Energetic, fun, safe and social.
Cost: $5.00 – Bookings Essential
Trainers: Adam Davis and Jessica.
---
Parkour Classes – Adults, Teens, Open Training Sessions
We have lots of great Parkour opportunities for you:
For Teens – Parkour Teens, Monday 7 – 8.30pm
For Adults – Parkour Adults, Monday 7 – 8.30pm, starting Term 4. Register your interest now so we can start this class!
For Extra training – Open Training Session, Saturday 3.30 – 5pm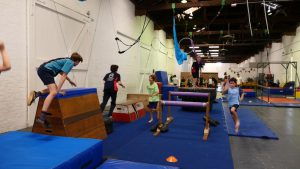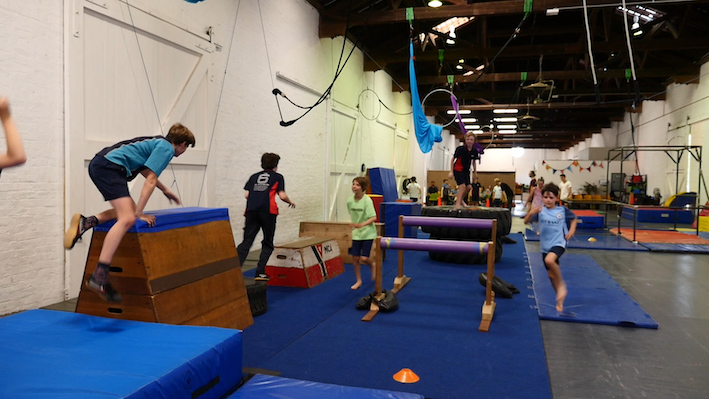 ---
Adam Davis – New Trainer
Adam Davis is joining our team fresh from NICA, The National Institute of Circus Arts where he studied and now coaches in circus foundations and specialities in pole, adagio, tumbling, aerials (including flying trapeze), juggling, flexibility, handstands and wall trampoline. He has previously coached at Circa in Queensland, High Flying Circus Arts, Gravity Circus Centre in London, Circus House in Manchester, Vulcana Womens Circus and at high schools.
Adam has a stellar performance career over the past 15 years performing throughout the world with Cirque du Soliel, The Great Moscow Circus, Circa, P&O Cruises, King Kong, Ben 10, Kage Physical Theatre and many more. He is also a stunt man and a rigger.
Adam and his wife Jessica run their own circus performance company Adica Arts and are based in Daylesford with their 6 year old son.
---
Nichola Hall – New Trainer
Nichola Hall has recently returned from South America after 8 years of work, travel and study.
She completed a Diploma in Circus Arts and Dance in Argentina and is a qualified yoga teacher, musician and photographer.
Nichola has been teaching circus, aerial and yoga in Canada, Argentina, Nicaragua and has been fusing together a unique mix of the various disciplines of dance, hola hoop, acrobatics and aerial in her teaching and performance. She has been developing her own movement language and unique teaching style focusing on connecting and experimenting more profoundly with the relationship between body, movement and element.
Nichola has worked with all ages from little kids to adults and has taught circus to various socio economic communities and within not for profit collectives. She has even worked on a project bringing together sailing and aerial dance.
---
New Video of Castlemaine Circus
Our wonderful filmmaker Lisa Mills has crafted an excellent video capturing the essence of what we do inside the Goods Shed. Please watch and see the magic of our classes.
---
Circus AGM
The date has been set for our AGM –
Saturday 25 May, 9am
North Kitchen, Hunter st Castlemaine
All members welcome
Please RSVP to secretary@castlemainecircus.com.au
---
New Circus Class – 'Elevate'
Thursdays 4.00 – 5.15pm starting Term 2
This class is for participants who want to excel in circus and who are ready for two classes a week. An exciting addition to our timetable, Elevate is for all ages over 5 and will be led by Ivo Ivelin, our star gymnast trainer. Elevate will not only accelerate circus skill development, it is an integral pathway to being part of the Castlemaine Circus performance troupe.
We are looking for participants who have developed basic circus / gymnastics skills and are passionate, willing to work hard and ready for a challenge. Elevate is a second class for participants. Participants need to be enrolled in another class to join Elevate or be enrolled in similar classes elsewhere.
The long term goal of our 'Elevate' class is the development of a Castlemaine Circus Performance Troupe. If you or your child are interested in performing then this is the class for them. If they don't want to perform but just really want to extend their circus skills, this is the best class.
Please email or call if you or your child are interested in joining Elevate. Feel free to chat with your trainer about joining. If affordability is an issue, please also contact me.
New Parkour Classes – Saturdays
Due to popular demand and long waiting lists we have opened up two more Parkour classes on Saturdays:
Parkour 9-12 years: 12.30 – 2.00pm
Parkour 5-8 years: 2.15 – 3.15pm
---
Juggle Jam – State Festival – Sunday 31 March
Come down for our first Juggle Jam. Eric Jarland and trusty assistant Armstrong Scherlies will be taking over the outdoor circus activities at Kid Rock, Castlemaine State Festival , Sunday 31 March.  This is free event and runs 10am – 2pm at our venue, The Goods Shed. So much juggling as well as hoola hoops, devil sticks, unicycling, stilts. There's also a mini music festival on inside the Goods Shed, food and drink trucks.
---
We've Moved: March 12 – April 6
Due to The Castlemaine State Festival taking over our venue, we have needed to move out. Apologies for any inconvenience to families and our trainers. We are now located at the Old High School Gymnasium in Etty St from March 12 – April 6. Thanks to the Castlemaine Secondary College for allowing us to hire their space, thanks to the help of our circus families and friends for moving all our gear, Adica Arts for their rigging, our Parkour Trainers for dismantling and setting up the space and the Castlemaine Zen group who cleaned the very dirty venue before we moved (what a job!). The space looks amazing now and will be  fantastic for our classes over the next 4 weeks.
2018
End of Year Celebration Week,  Nov 26 – Dec 2, 2018
What an amazing week it was – 14 classes demonstrating all the skills and delight of the circus.
Well done to our 200 students who took it in their stride to present the skills they had learnt and embraced their nervousness and excitement to present to everyone.
Well done to our 15 circus trainers who all created fun and focused presentations for the families and friends of the circus.
And for our Celebration Week finale, the Castlemaine Circus Aerial Troupe performed beautifully in front of 250 people. And The Pitts Family Circus performed a free show for all the Circus families and Castlemaine community.  They were hilarious and amazing and it was incredible to watch all 5 of them (including their 2 year old) perform so well together.
Thanks to The Pitts Family, Freya and Marina our Aerial Toupe trainers, our volunteers for setting up and packing up the show, The Vintage Bizarre for their thank you gift to The Pitts, Rotary for cooking the BBQ and Don Smallgoods, Maxi IGA and Bakers Delight for the donations for the BBQ.
---
MASG Family Fun Day – Sunday 28 Oct
Our Circus trainer Eric Jarland led free Circus Activities at the MASG Family Fun Day in the Castlemaine Botanical Gardens.
---
Milou Albrecht – Aerial Project
Milou Albrecht trained with our Aerial teacher Freya Chandler for 6 months at the Castlemaine Circus. The Aerial project was for her Year 8 studies. Milou had to work with a member of the Castlemaine community and research, create and present her idea to her school. Milou chose Freya Chandler, her Aerial teacher of two years to help her create an Aerial performance of over 4 mins.
Milou is also our Student trainer in the Gym for Circus class.
Please watch this lovely creation.
---
Raffle 2018!
Congratulations to the winners of our Circus Raffle 2018.
1st Prize – Canon O'Saurus
2nd Prize – Isaebella Doherty
3rd Prize – Maryanne Blanch
Thanks to the generous donations from our circus families:
The Bridge Hotel, Red Beard Bakery, Castlemaine Group Fitness, Castlemaine Vintage Bazaar, Smiggles, Castlemaine Central Wine Store and ASQ.
Thanks to all the fundraising of the circus families we have raised $1,350 to purchase a new silk, gymnastics shapes, juggling balls, skipping ropes and spinning plates!
---
Parkour Birthday Parties
Castlemaine Circus is now offering Parkour Birthday parties…
Come for either a 1 or  1 1/2 hour Parkour workshop.
Maximum 10 participants.
Age: 5 upwards.
1 hour workshop: $180.
1 1/2 hour workshop: $220.
Kitchenette available.
---
Castlemaine Circus at The Village Festival
Our resident professional circus performer Eric Jarland lead a jam packed Circus workshop at the Village Festival, June 23. The workshop was pumping with festival goers learning juggling, unicycling, hola hooping and devil sticks.
Eric teaches all these wonderful circus skills on Thursday nights.
---
Castlemaine Circus BBQ Fundraiser
Thanks for all your generous support at the Castlemaine Circus BBQ Fundraiser on June 3. We sold out of all our delicious gourmet sausages from the Farmers Market and raised hundreds of dollars for the Circus. Look out for some new stilts and an outdoor slackline for the Circus!
---
New Classes for Term 2: Physical Theatre, Circus for Homeschoolers and Contemporary Aerial Silks
Physical Theatre
In our Saturday Circus program we have:
Physical Theatre 5-8 year old, Saturdays 12.30 – 1.30pm
Physical Theatre 9-12 year old, Saturdays 1.30 – 3.00pm (Term 3)
These classes will explore the exciting world of physical theatre where we will develop characters and short pieces using the body, the space and everyday objects. Classes will explore physical acting, movement, develop physical characters, and using improvisation we will create short scenes and sequences.  If the group is interested in performing we will create short pieces to perform at the end of term to families.
Classes develop confidence, skills in group work and collaboration. Perfect for young people who love using their imagination, and using their bodies to create.
These fun and creative class are lead by Mandy Field.
Email now to register your interest.
---
Circus for Homeschoolers
A class time to suit Homeschooler families! Mondays 1.30 – 2.30.
Suitable for beginners and intermediate students, this class covers basic tumbling, acrobatics, manipulation (juggling, hooping etc) and Aerial. Lots of fun and great skills in developing body coordination, awareness, stength and conditioning. Beneficial in both social and physical development.
This comprehensive and jam packed class is lead by Freya Chandler.
Email now to register your interest.
---
Contemporary Aerial Silks
An excellent daytime class focusing on a unique style of Aerial training, Wednesdays 1.30 – 3.00pm.
This class is suitable for all those people that are curious to explore a new dimension: the air. You will be surprised to know how and how much a body can move by changing the base of support it uses and its points of balance.
The beginners will learn the bases of aerial silks technique. More advanced will be provided with the fundamentals required to develop a different and contemporary style of silks training, not concentrated only on the beauty of a body and a static shape but especially on the possibilities of movement from a shape to another and the dynamic connections between them. This is the reason why the class is enjoyable also for men.
Every student will be followed in the respect of his learning times.
Marina Ciccarelli has trained in Italy for five years specialising in aerial silks and static trapeze. She has developed a contemporary European style of silks training and aerial performance not seen in Australia.
Email now to register your interest.
---
New Castlemaine Circus Performance Video
Our highly skilled film producer Lisa Mills has captured the highlights of many of the Castlemaine Circus performances for 2017. To see the breadth and variety of skills learned by our participants of all ages, please watch this wonderful video.
---
Visited the Flying Fruit Circus Show – JUNK!
The highly acclaimed Flying Fruit Fly Circus returned with their latest smash-hit show set amongst a 1940's rural junkyard. Transforming trash into magical landscapes, JUNK took us on a journey back to a time when the neighbourhood street was a playground full of adventure and make-believe.
Eighteen students (plus their parent/guardian) attended an 'Inside The Circus' program with the Flying Fruit Fly Circus.
Thursday 29 March (last school day)
11.15am – 2.15pm
Ulumbarra Theatre, Bendigo
The program included four stages:
Observation of preshow warm up for JUNK
This is a wonderful opportunity to experience what happens behind the scenes of a circus production, and to observe the hard work, dedication and focus that is required to be a high-level circus artist.
Insight into the Circus life
Before the performance, the students will get a chance to meet and talk to the company tour manager, who will explain and answer any questions about the young artists schooling, the full time circus training and how these young artists live on tour.
Experience JUNK
Watch the performance of JUNK at Ulumbarra
Discovery
After the performance the whole audience can stay in the auditorium and participate in a short question and answer session.  Following this the group of students and their parents can meet the cast in person.
---
New Membership
The Castlemaine Circus is a not for profit organisation that began with the enthusiasm of a small group of parent and community volunteers, over four years ago. Recently we have seen an amazing growth in our organisation, now providing a wide range of circus classes for people of all ages to participate in. It is incredibly exciting that this important local community resource is moving from strength to strength, offering a wide range of children, families and individuals opportunities to extend and master physical skills within positive, supportive, creative and social environments.
Currently Castlemaine Circus is governed by a board of five voluntary members. The rapid expansion of this organisation has increased their responsibilities relating to administrative, legal, staffing and venue requirements.
Therefore after much consideration a decision has been made to open our membership to all circus participants. This process offers more opportunity for those within the circus to have a stronger vested interest in current and future directions and decisions making processes. With further opportunities to vote at the AGM, receive discounts on merchandise and support a growing not-for-profit organisation that is now part of the heart of Castlemaine. The increased revenue from membership will further support us to keep class prices at current levels.
As of January 2018, all students participating in Castlemaine Circus classes will become members of Castlemaine Circus Inc.  This means that each family will be asked to please pay a $20 per calendar year membership fee. This levy will be added to each families first invoice for the year.  If you have any concerns about this process please do not hesitate to contact me and a big thank you to everyone for your continued participation and support of such a valuable and highly respected community organisation.
---
2017
Castlemaine Circus End of Year Presentation 2017

This was a wonderful celebration of all the great skills and camaraderie that our participants developed throughout the year. We showcased most of our classes and our performance troupe over two shows. There were over 450 people in attendance and 150 performers. Well done everyone for such a brilliant effort!
We would like to thank all those people who helped make this happen…
Australia Council, Rotary Castlemaine, Liz Geddes from Chops for Tea, Lisa Chesters, IGA Maxi, Bakers Delight. Plus all the trainers and production crew who made the event seamless and enjoyable.
Please watch our video of the event.
Castlemaine Circus at the Castlemaine Show Parade

Friday 3 November
Celebrating the culture of Castlemaine Circus:
Stimulating, creative, fun, and welcoming to all
---
Performance at the Star Sports Awards
Castlemaine Circus were invited to perform at the
Castlemaine Mail Annual Sports Start Awards.
October 29, 2017.
---
Castlemaine State Festival 2017
We performed in two events in the Castlemaine State Festival:
The Public Opening of The Castlemaine State Festival on Friday 17th March.
The Don KR Garden Party on Sunday 26th March, in the Tarrengower and Lalgambook: A Jaara Jaara Teaching.
These performances were supported by Rotary.
---
Atopia 2015
2015 ATOPIA
With funding and support from Punctum Inc, Creative Victoria and the Federal Regional Arts Fund, Castlemaine Circus is developing a new performance work entitled "Atopia".
Atopia involves an initial series of workshops teaching local young people circus arts and physical performance, visual theatre and storytelling, technical design and video-making, led by a team of local professional artists. In 2016 this project will work to develop site specific responses
The project is a partnership with the Meeting Place Koori Cultural Program, the Maldon Neighbourhood House's Young West Program, Curly Roost Refugee Support, and young and emerging artists from the Castlemaine Circus School.
In 2016 the developed works will be presented in site specific locations throughout Mount Alexander Shire.
Video of progress in the Atopia project.
---
2016 Projects at the Castlemaine Goods Shed: Photos from Development
---
Castlemaine State Festival – March 24, 2015
Thank you so much to the circus families, friends and all that came and supported our excellent young people on Saturday. It does indeed take a community for things like this to happen. A big thanks to the Castlemaine State Festival for having us, Mara Macs and Rachael Quirk for seeing this busy week through, Willow's mum for letting us climb all over her truck, The Chipolatas for inspiring and supporting us, and to our extraordinary Youth Ensemble: YOU ROCKED IT!!
We have big dreams so watch this space!
---
Harcourt Applefest 2015
Valentine's Day Cabaret, 2015
MEDIA
Castlemaine Circus is transforming the central Victorian town, The Weekly Times, September 23, 2015
Clunes is home to a Bulgarian acrobatics champion, The Weekly Times, September 23, 2015
Regional arts boost – Local projects win vital funding, Midland Express, August 3, 2015