Circus Warriors Class: Wed 13 Nov, 10.00am
An obstacle circus course for preschoolers – what more fun can you have!!
Jumping, rolling, hanging, crawling, swinging on all the circus equipment.
Energetic, fun, safe and social.
Cost: $5.00 – Bookings Essential
Trainers: Adam Davis and Jessica.
Parkour Classes – Adults, Teens, Open Training Sessions
We have lots of great Parkour opportunities for you:
For Teens – Parkour Teens, Monday 7 – 8.30pm
For Adults – Parkour Adults, Monday 7 – 8.30pm, starting Term 4. Register your interest now so we can start this class!
For Extra training – Open Training Session, Saturday 3.30 – 5pm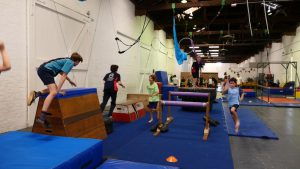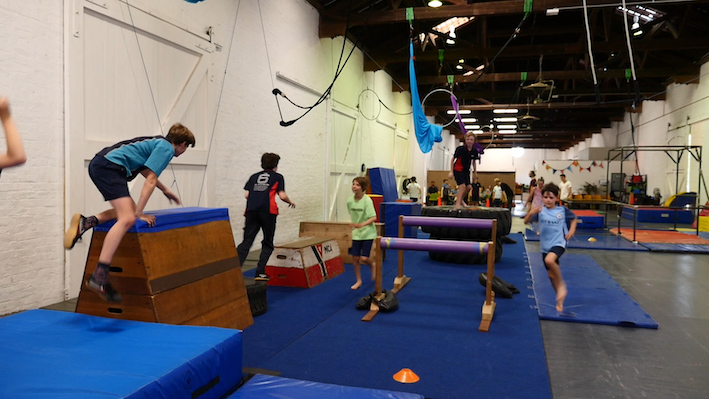 ---
Adam Davis – New Trainer
Adam Davis is joining our team fresh from NICA, The National Institute of Circus Arts where he studied and now coaches in circus foundations and specialities in pole, adagio, tumbling, aerials (including flying trapeze), juggling, flexibility, handstands and wall trampoline. He has previously coached at Circa in Queensland, High Flying Circus Arts, Gravity Circus Centre in London, Circus House in Manchester, Vulcana Womens Circus and at high schools.
Adam has a stellar performance career over the past 15 years performing throughout the world with Cirque du Soliel, The Great Moscow Circus, Circa, P&O Cruises, King Kong, Ben 10, Kage Physical Theatre and many more. He is also a stunt man and a rigger.
Adam and his wife Jessica run their own circus performance company Adica Arts and are based in Daylesford with their 6 year old son.
---
Nichola Hall – New Trainer
Nichola Hall has recently returned from South America after 8 years of work, travel and study.
She completed a Diploma in Circus Arts and Dance in Argentina and is a qualified yoga teacher, musician and photographer.
Nichola has been teaching circus, aerial and yoga in Canada, Argentina, Nicaragua and has been fusing together a unique mix of the various disciplines of dance, hola hoop, acrobatics and aerial in her teaching and performance. She has been developing her own movement language and unique teaching style focusing on connecting and experimenting more profoundly with the relationship between body, movement and element.
Nichola has worked with all ages from little kids to adults and has taught circus to various socio economic communities and within not for profit collectives. She has even worked on a project bringing together sailing and aerial dance.
---
New Video of Castlemaine Circus
Our wonderful filmmaker Lisa Mills has crafted an excellent video capturing the essence of what we do inside the Goods Shed. Please watch and see the magic of our classes.
---
Circus AGM
The date has been set for our AGM –
Saturday 25 May, 9am
North Kitchen, Hunter st Castlemaine
All members welcome
Please RSVP to secretary@castlemainecircus.com.au
---
New Circus Class – 'Elevate'
Thursdays 4.00 – 5.15pm starting Term 2
This class is for participants who want to excel in circus and who are ready for two classes a week. An exciting addition to our timetable, Elevate is for all ages over 5 and will be led by Ivo Ivelin, our star gymnast trainer. Elevate will not only accelerate circus skill development, it is an integral pathway to being part of the Castlemaine Circus performance troupe.
We are looking for participants who have developed basic circus / gymnastics skills and are passionate, willing to work hard and ready for a challenge. Elevate is a second class for participants. Participants need to be enrolled in another class to join Elevate or be enrolled in similar classes elsewhere.
The long term goal of our 'Elevate' class is the development of a Castlemaine Circus Performance Troupe. If you or your child are interested in performing then this is the class for them. If they don't want to perform but just really want to extend their circus skills, this is the best class.
Please email or call if you or your child are interested in joining Elevate. Feel free to chat with your trainer about joining. If affordability is an issue, please also contact me.
New Parkour Classes – Saturdays
Due to popular demand and long waiting lists we have opened up two more Parkour classes on Saturdays:
Parkour 9-12 years: 12.30 – 2.00pm
Parkour 5-8 years: 2.15 – 3.15pm
---
Juggle Jam – State Festival – Sunday 31 March
Come down for our first Juggle Jam. Eric Jarland and trusty assistant Armstrong Scherlies will be taking over the outdoor circus activities at Kid Rock, Castlemaine State Festival , Sunday 31 March.  This is free event and runs 10am – 2pm at our venue, The Goods Shed. So much juggling as well as hoola hoops, devil sticks, unicycling, stilts. There's also a mini music festival on inside the Goods Shed, food and drink trucks.
---
We've Moved: March 12 – April 6
Due to The Castlemaine State Festival taking over our venue, we have needed to move out. Apologies for any inconvenience to families and our trainers. We are now located at the Old High School Gymnasium in Etty St from March 12 – April 6. Thanks to the Castlemaine Secondary College for allowing us to hire their space, thanks to the help of our circus families and friends for moving all our gear, Adica Arts for their rigging, our Parkour Trainers for dismantling and setting up the space and the Castlemaine Zen group who cleaned the very dirty venue before we moved (what a job!). The space looks amazing now and will be  fantastic for our classes over the next 4 weeks.